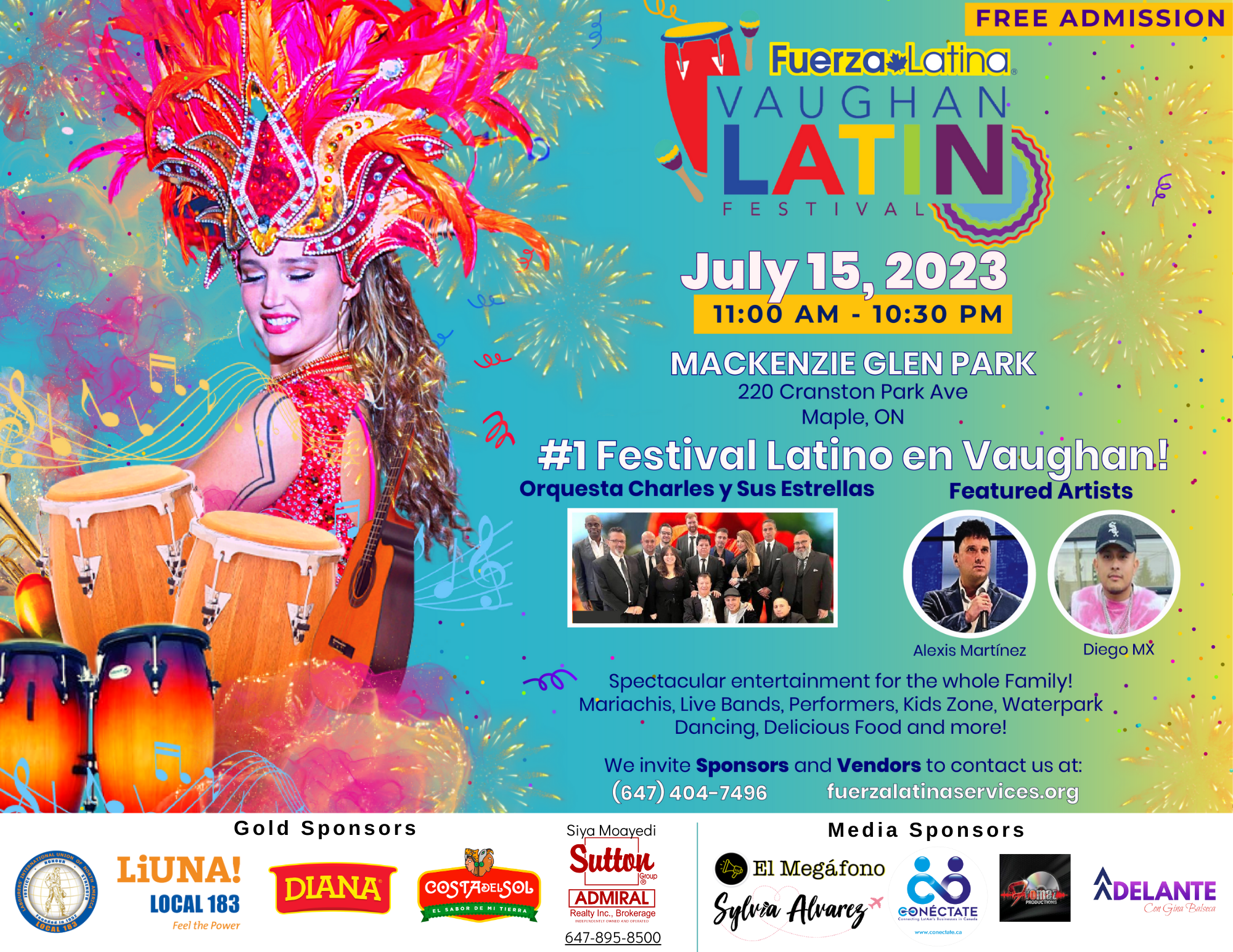 You can be part of the one and only Vaughan Latin Festival. Join us as a vendor, performer or sponsor today and receive more information.
Vendors and Exhibitors 2023
FOOD VENDORS
Captain Cone √
Polar Real Tropical Fruit √
Luri's Bakery √
TOGO ZO YUMMY √
Mad Mexican √
Hielito Bits Corp √
The best Chicha √
Street Corn √
Steak Barrels √
El Sazón de la Tía Flor √
Delicious empanadas √
Tiquicia √
Bocaditos Latinos √
Reggatina √
EXHIBITORS
KikiCandlesca √
Maleta Books √
Mar Accessories Store √
BloomBelles Designs √
Tun Up Hot Sauce™️ √
Shelina's Creations √
9Round / ML PRESTIGE WELLNESS INC √
Sun Of A Bead √
Gu+Ava Designs Studio √
Sam bows boutique √
Enterpise Amelia holistic10 √
Kelly illustrations √
Dorolimited √
Gemstones & Co. √
Herbalife Independent Distributor √
Gadea Immigration Services √
Health Coach and Nutrition √
Bee.coqueta √
Chagger Dental Clinic √
Ironman Welding √
Magicbridge & Co. √
Silver Mx √
Niky Bella Candles √
OrangeTheory Fitness √
COSTCO √
KDA Design & Arts √
Royal Creation √
Embark Education Corp √
2022 VAUGHAN LATIN FESTIVAL COMMENTS
"Fue un día glorioso. Baile, canto, danzas y terminamos todos bailando frente al estrado con Charlie y sus Estrellas. Felicitaciones. Definitivamente volveremos el próximo año". Irene Acuna
"Muchísimas gracias @fuerzalatinayr for having us back to perform at your incredible festival! Hasta pronto". X Choreography
"Thank you Fuerza Latina, Excellent music and show!!!". Jorge Martinez
"Thank you for hosting a great event in the community again this year". 9Round Kickbox
"Gracias a Vaughan Latin Festival for having us". Claudia Huertabr
"Had a great time DJing what an amazing crowd". DJ Yösh
"Amazing vendor experience!!!". Gemstone & Co.
"Gina, quería agradecerte por permitirme ser parte de tan hermoso evento, fue un día muy especial acompañado de la mas bella energía me encantaría poder acompañarte en los próximos eventos". Victoria Morales Real Estate      
"Overall it was a very positive experience". Shomaila @ Bloombelles
"The event was a huge success for me! I will definitely participate next year if the opportunity to do so is available. Your people were very helpful and kind and the Customer's were great, thank you again!". Tun Up Inc